Blog
Welcome to the official blog for the "Online Mall"
To keep true to our promise of not harassing you with popup ads, regular news emails that are so annoying, and spam-like content, we will only be sharing news of what is happening in the Mall on the Blog page. You can decide to read it, if and when you feel like. Links on the Blog page, may last as long as the value of a cryptocurrency, since we don't "maintain" links here. As opportunities become available, we will also use the Blog to review shops, products, and services found in the Mall. Please let us know if there is something you would like us to review here.
.
20 April 2018
Friday at last, another glorious week has passed and it is time to update the Blog, what is happening in the Online Mall. First we have another service to offer you for free, yes another Free service! Ge your fax to email number in the office supplies section, and be able to receive unlimited faxes without wasting any paper. You can also use the number to send email to fax, at a minimal fee.
Next there is another shop for ladies! This is not just any shop, they specialize in making what you order, following their design, but with more you in it. Truly unique just for you, made on order not mass produced. Welcome Fame and Partners. Lastly, we have written a paragraph for each page so Google can let people see us. Search Engine Optimisation, a work in progress.
.
12 April 2018
Consolidating debt can be useful when you have an account here and an account there. Unlike a regular loan, accounts do not lower their interest rate if you build up a good payment record. Prime interest rate may be 9.5% and your accounts will be charging you 22% interest. Consolidating all your debt under one lower interest rate really makes a difference. In today's blog, we bring you debt eraser to help lighten your load.
.
11 April 2018
These days, it seems the only way one could refer to insurance as a blanket, is if you mean a quilt. We have yet to find insurance that covers everything properly. Most stitch together all the different policies and covers, and eventually if you can afford it, you are covered by the insurance quilt. Yep today's blog welcomes another insurance patch to the online Mall Accident Angeles.
.
04 April 2018
Review Time!
Let's go for a trip in Time, when cell phones were something new, and the internet was used on computers! Today we are looking at a remake of the only phone, that could survive in Chuck Norris's Jean Pant pocket. Yep you guessed it, The legendary Nokia 3310! The Nokia 3310 was not known for all its amazing features. 30 character SMS messages, that Game snake, and the covers that pop off every time it falls.
…it became legendary because of its amazing survival skills.
Rather, it became legendary because of its amazing survival skills. That being said, you can still buy an original Nokia 3310 today in 2018! If You had rights to use the name of the worlds most legendary phone, it only makes sense that you capitalize on its best model, thus the "New Nokia 3310". Yes we all have smartphones that make this new 3310 look like an antique.
…would you go mudding in your new A class…
But ask yourself: would you go mudding in your new A class Mercedes Benz? You can use the new 3310 in many, many more ways than its older brother, like taking pictures with the 2MP camera with a flash. Browse the web on a 2.4" 2D / 3D QVGA screen. You can be social on Facebook and Twitter. Listen to Radio, listen to your saved music, download apps in the mobile store, watch videos, record your voice, and use it as a torch.
WiFi, or a touch screen?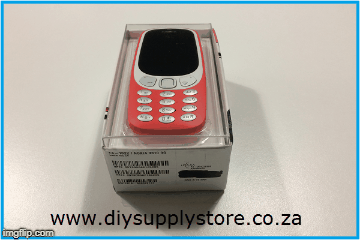 The new Nokia 3310 has more games preloaded, besides the new Snake there is, Real Football demo, Asphalt Nitro demo, LitteleBigCity 2 demo, and Disney Kingdoms demo. To summarise, what makes the new Nokia 3310 attractive today considering that it does not even have WiFi, or a touch screen? Exactly the same thing its older brother had. It is a phone in your pocket, it is cheap, easy to use, and you are not worried about it. Now for the big question: Where can I buy one? We looked in the Mall and found all the shops that sell a Nokia 3310, a lookalike 3310, or accessories for the 3310 series.
.
22 March 2018
Review Time!
In our experience with electronics, we have discovered, that electronic components contain compressed smoke to allow them to function properly. If for some, unforeseeable reason, the smoke leaks out of then, the components do not work any more. If you have ever lost valuable information, because of your computer springing a "smoke leak", today's Blog / review is just for you!
"When your desktop or laptop dies…"
Recently one of our Computers ended abruptly with an unprotected power surge. Gearbest.com has come to our rescue with a little package in the post, that literally saves the day! When your desktop or laptop dies, you don't have to lose your information on it. Inside each device, is a storage unit known as a Hard Disc Drive (HDD). Unless the HDD broke, your information is still safe.
"…the type of HDD, or SSHD…"
Today's Blog review is of a HDD external casing that Gearbest.com sent us. We will walk you step by step through the easy process of rescuing your data  from a dead machine, with the help of Gearbest.com. The first thing you will need to know before you buy an external HDD casing, is the type of HDD, or SSHD (Solid State Hard Drive) your machine was using.
The easiest way to do this is by reading the label on your HDD, and then use the Google to find out more. We searched "WD1600AAJS" and immediately had all we needed to know. Armed with knowledge, we visited Gearbest.com, and typed 3.5″ into the search bar. From there we looked at options, read a bit, to make sure the casing is going to work for us, as we use Windows 7, and Windows 10.
"… The only variation to the instructions…"
Once the casing we selected arrived via courier, it was as simple as open, and follow the instructions. The only variation to the instructions was quite obvious. We did not have a new HDD, and were trying to save the data on it, so we did not format it, but simply gave it a Name represented by a character :J so that windows can see it.
"…a fairytale ending…"
That is only a slight variation from the printed instruction, and is a Windows thing. Now we are happily reunited with our almost lost information, practically a fairytale ending! Thank you Gearbest.com!
.
20 March 2018
DIY Supply Store Online Mall is slowly growing, every day we continue our search for more ways to make our service to you more attractive. Your feedback is much appreciated, keep it coming! Today we have another partner for creating or managing your online store, Sufio. Sufio is a great way to automate your invoice system, and send receipts. Sufio works with Shopify and Bigcommerce, boath great platforms to start a online shop.
.
19 March 2018
Affiliate Marketing VS Paid ads
So you have your business online now, and you are working really hard to be visible with the obvious aim of converting web traffic into actual sales. There are people all over advertising they can help you with your SEO, and can run ads on your behalf. It all sounds wonderful! The trouble is, you would like to know that the money you spend is an investment, and not just another expense. Today's Blog is for you!
"…end up with thousands of likes…"
While running premium ads on social media will get you followers, they can be costly, and you have to pay for impressions, clicks, and Likes whether or not you make actual sales. For most small businesses this can be quite random, you may not yet know who your target market is, and end up with thousands of likes and followers, who are not going to buy anything.
"…affiliate marketing is basically free…"
This is where affiliate marketing can help your advertising budget. Unlike conventional advertising where you pay for the effort, the impressions, the clicks, and the Likes, affiliate marketing is basically free till an actual sale is made. The best part is, you set up your own budget, and you decide in advance how much commission you are willing to pay for each item sold.
"The better the reward you offer…"
You also get to choose who may run ads, how they may run the ads, where they may run the ads, and what words they may use so as not to be in competition to your own ads. You can even provide your affiliates with approved ads they can run. Keep in mind, affiliates are not suckers running free ads for you, they are superheros that provide a service, and do not expect rewards unless they are victorious. The better the reward you offer, the more superheroes you will attract. Keep in mind, some villains may pose as heroes and run inappropriate ads otherwise known as SPAM! That is why it is important to let the candidate affiliate show you how they will be advertising your products. You could also call on one or more affiliate marketing agencies to manage this for you.
.
14 March 2018
While sifting through the promotional offers we get, making sure to share only the quintessence of these with you via the "SOB."  We discovered a shop that we missed. Fat Brain Toys, a company that makes children's toys so cool, we almost wish we could go back to being rugrats just to play with then! You can find them in the educational category.
.
13 March 2018
So many shops, so little time! Today we would like to launch a new section to the mall. We realise that everyone appreciates discount on their shopping, and know that each shop does offer this. Because of the nature of the Online Mall, we sometimes get discounts links that we would like to share with you. To make this practical, and avoid cluttering our blog with ads, we are making a tab at the top of the blog page that links to the "Special Offer Blog". On the S.O.B we will try to keep up with all the latest discounts and specials.
.
12 March 2018
With just over a month of silence you may have wondered what we were up to in the mall? We were on a epic road trip to investigating the true origin of the Fidget spinner. According to out estimation, it has its origins in South Africa and we have the Archaeological evidence to back up our theory. This picture was taken at the Valley of desolation outside the little town of Graaff-Reinet. 
Review Time!
While we were away, Gearbest.com sent us an awesome set of earphones to review. So what makes this set of earphones awesome? The first and most obvious thing everyone looks at is PRICE. In the land of earphones, price varies greatly, but so does quality. The "Original Xiaomi Pro HD In-ear Hybrid Earphones" are inexpensive for the quality of earphone you are getting.
"…they are comfortable!…"
Personally I do not like putting things in my ears, as this usually starts becoming uncomfortable after a while. I was pleasantly surprised! After a few days of all day usage, I can say they are comfortable! On day one, I used the small ear grommets, but quickly realised that the sound quality is no good without a proper fit.
" …they are really easy to use…"
After refitting the medium ear grommets, all was well, and the bass was back! Besides Price, comfort, and sound quality, they are really easy to use. In the instruction manual a simple picture explanation is shown so that you can easily change tracks on your player, and increase or decrease the volume. If you are using Iphone, you can use the centre button to answer the phone, pause, skip a track, or go back a track by single click, double click or triple click.
"…not to play the music too loud…"
If you are using Samsung you can do the same, with the advantage of using the volume buttons to adjust the volume. Since this is a personal item that you put in your ear, we recommend keeping it clean, and storing in its handy carry case when you are not using it. Always heed the warnings not to play the music too loud as this can cause hearing damage.
.
02 February 2018
What a start to February! First I got a R600 discount on my holiday accomodation via AirBnB, which I can recommend, as it cut my overnight road trip accommodation bill in half, and I get to play it forward. Next one of the biggest online markets joins the Mall! Win Win for everyone! Hopefully you like using amazon, and are able to get what you want delivered to your door. Remember to make sure of this before paying!
.
18 January 2018

After surviving the holiday, the road trip, the children, and the inlaws, you can start a new year with a renewed appreciation for life! In today's blog I would like to share some tips to get started early in the year before things get busy, and you inevitably forget to do them later. During the holidays 2017/2018 2 car crashes happened within 100m of my home, on the N2 to Plettenberg Bay. Fortunately everyone seems to have come off easy, with no fatalities that I am aware of.
Danger ahead!
This got me thinking about how much could go wrong because of a lack of awareness. Take for example, the good hearted man who stopped, put on a reflective vest, and brought a 5L water bottle and a cup, to give the crash victims of a taxi, something to drink! So many people are not aware. You could literally kill someone by giving them something to eat or drink. When their body has experienced a big shock, like a car accident. Knowledge is a rare commodity at a crash scene.
Start planning now!
Where is the best place to begin making sure you are as prepared as you can be? PLANNING. Start planning for the worst, while expecting the best. The best thing anyone can do in this regard, is take a basic first aid course in occupational first aid. In the ideal world, it would be part of our basic education. Since this is not the ideal world, and we are living in a country blanketed as a "s*@# h#$*" country (edited for good taste) by Donald Trump, let's  assume the best you can do is buy some very basic supplies, to increase your awareness, and preparedness, for when things go wrong.
I want out!
The first gadget is a very simple tool to cut a seat belt, and smash a window. Super handy if you drive into the ocean wearing a seatbelt that suddenly won't release as you start to sink… Perhaps only in the movies? But just in case you ever want out, this is not going to break the budget. (At an amazing R24.38) For the price of a pie, you could really have one on each bunch of keys. In the cubby hole (glove box), and as a ornament hanging from your rearview mirror. (DIY Supply store does not support buying this to aid in road rage or vandalism.)
Keep warm!
The next big thing is another little known fact about an accident. You may start to shiver, a normal reaction to trauma. The shivering is a sign that you have experienced trauma. If you have no injuries that you are aware of, you can still go into shock, and even die. Allow for your body to calm, and relax directly after the accident. (Another symptom is thirst or hunger, as mentioned earlier, do NOT eat of drink!)  Thus the space blanket was invented. For the price of a small milkshake, a tiny compact plastic foil that is designed to keep you warm. Another item that you simply can never have enough of.
Shine a light!
Both accidents mentioned earlier were at night. fortunately I happen to have a few super bright Led torches, that work with rechargeable BL-18650 Li-ion batteries. The torch in the picture is a good candidate, all round one man army effect. It charges with a built in USB cable, and can be used as a backup charger. It has flashing red lights, and can be used in a variety of situations. For about R20 less than a 21 price bucket of chicken pieces, real value for money.
Be prepared!
Finally, the item that every car, home, and office should have: For the price of a medium Pizza and a Coke, a basic first aid kit. I have selected an all round useful kit the size of a 2L bottle. Why this one? Simply because I like pizza. This kit can go where I go. So I buy one, and just take it with me instead of buying multiple kits. It also contains the essentials for a person with no first aid training. You could help stop bleeding, Put out emergency triangles. Phone the ambulance. Hold someone's hand, and reassure them the ambulance is on the way. Adding some more bandages and a space blanket may be a good idea.
Save yourself by getting ready!
To conclude today's blog, a stirring thought to ponder. Every resolution contains "loose weight" somewhere in it. Today's blog made comparisons. Everyday things we eat, VS small items that can make the difference between life and death. There is no denying, every bit of us entered in through our mouth. So, if you would like to have less of yourself, put less into your mouth this year. Instead of buying "junk food," or expensive weight loss products, that will inevitably end up in storage. How about buying small inexpensive items that can increase your awareness, preparedness, and increase your confidence, which is one of the best thing to help you reach your goals.
 .
15 January 2018
We are pleased to announce in today's blog that Boman Power Tools has joined the online Mall as our most recent local shop. Do you take DIY seriously, or know what you want? Boman has the most extensive power tool warehouse in South Africa, and they deliver!